Summer for the Humphries Lab was, unfortunately, not endless. However, much happened over the past few months: Lauren Josephs defended her Master's thesis, the rest of the crew dispersed across three continents to begin or continue fieldwork, and new lab members arrived at URI including Masters student Melati Kaye and Postdoc Diana Beltrán. Here are some updates:
Evans Arizi (PhD Student). As part of Evans' fieldwork to understand the interaction between sardines and fishing gears, he recruited and trained field assistants for gathering data from eight fishing communities along the entire coast of Ghana in West Africa. In August, Evans was dedicated to carrying out the first official sampling for his dissertation research. He will spend the Fall semester in Ghana collecting data, reviewing literature related to his dissertation, and begin studying for his comprehensive exams.
Elle Wibisono (PhD Student). Elle is back in the The Nature Conservancy's Benoa Fisheries Station (in Bali) with Drs. Peter Mous and Jos Pet, which means debating about details of the project and doing all they can to make it better. Elle has been collecting fishing ledgers from captains and fish traders across Central and Eastern Indonesia. She was unsure how successful this endeavor would be because she was asking captains and fish traders for their bookkeeping. But, for those who actually kept records, Elle and colleagues managed to take pictures and collect data. Obtaining the ledgers mainly involves smiling, a lot, and drinking sweet tea, a lot. Even when the captains and traders did not have ledgers to show, Elle always learned something new while talking to the captains.Elle is spending the Fall semester in Indonesia to continue collecting data and work on finishing the first chapter of her dissertation.
Paul Carvalho (PhD Student). Paul went to Indonesia for the first time this summer to scope study sites for his dissertation research. Due to complications with the never-ending research permit process in Indonesia, Paul spent a week at Bogor Agricultural University working in an office, then traveled to Wakatobi with Austin and Melati to conduct preliminary surveys on reefs on Wangi Wangi, Kaledupa, and Hoga Island. In addition, the National Socio-Environmental Synthesis Center (SESYNC) funded Paul's Graduate Pursuit team to examine ecological responses to hurricanes, and social/governance systems attempts to transform the qualitative state of coastal ecosystems before and after a hurricane. During Fall semester Paul presents at the Coastal & Estuarine Research Federation conference in Providence, RI, hopes to complete the research permit process, return to Indonesia to collect data for his dissertation, and meet with his SESYNC team in Annapolis MD.
Diky Suganda (PhD Student). Diky spent the summer studying for his comprehensive exams, entering fish landings data from Raja Ampat, Indonesia, and directing a group of enumerators in Raja Ampat for collecting data. Also, Diky harvested tomatoes, parsley, basil, and eggplants from his small garden. This Fall Diky is going to focus on writing his thesis and look for short training courses and workshops to expand his skillset.
Melati Kaye (MS Student). Melati spent part of the summer in Wakatobi, off the tip of Southeast Sulawesi in Indonesia, on a scoping trip with Paul and Austin. Her focus was on fish landings data collection protocol and methods. This meant mornings spent leaping from dock to boat deck to fishmonger canoe as she learned the different players in the local fishery, and nights spent with pictures of the day's catch and the reef fish identification guide learning the diversity of species caught. Melati landed in Rhode Island in early September to start classes. After four years of tropical living in Indonesia, she is excited to get in some leafpeeping during her bicycle commutes to campus. During Fall semester, Melati is taking Fisheries Oceanography and Advanced Ecology, sorting through initial data from Wakatobi, and refining landings data collection protocol.
Katie Viducic (MS Student). This summer, Katie continued to tag blue sharks to gather migration data for her thesis. She tagged sharks 10-50 miles off Narragansett, RI, with dart tags provided by the National Marine Fisheries Service (NMFS). In addition, Katie continued to volunteer for NMFS and travel to shark tournaments throughout New England where she collected samples for diet, reproduction, age, and growth studies. This Fall semester, Katie will continue data analysis, which she started this summer, and begin writing her thesis.
Austin Humphries (Assistant Professor). Austin participated in a workshop at Columbia University on "Sustainable Food Systems Thinking and Teaching – Creating a Community of Practice". Austin appreciated learning how other professors teach themes and content related to the courses he teaches. Lauren Josephs, the original graduate student in the lab, successfully defended her thesis on what factors contribute to social success for coastal management and restoration. Next, Austin went off to Indonesia for a month, and began the trip with a talk at the US National Academy of Sciences Indonesian-American KAVLI Frontiers of Science Symposium. Then he spent some time with his collaborators at Bogor Agricultural University before getting out in the field with Paul and Melati in Wakatobi. While in the field, the Wakatobi crew (Austin, Melati, and Paul) had success in determining study site locations for collecting data on the coral reefs and fisheries catch in Wangi-Wangi, the most populated island of Wakatobi. With equipment still wet, Austin landed in Rhode Island and completed Year 2 of his kelp monitoring project in Narragansett Bay. Austin is teaching an introductory course this Fall called "Food from the Sea", which promises to be loads of work, but rewarding.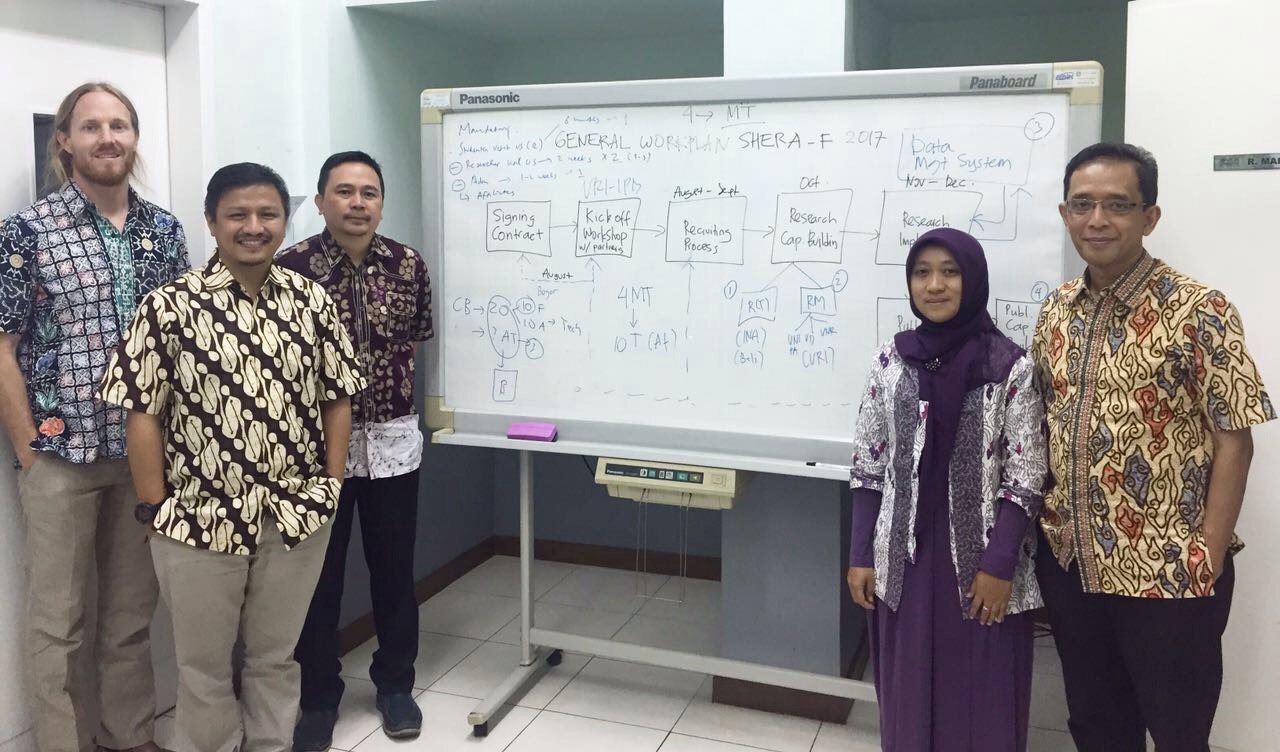 We welcome Postdoctoral Scholar, Diana Beltrán to the group this semester! Diana uses genetic approaches to study the dispersal of coral reef fishes and how this informs marine conservation and spatial planning. She is starting work in Indonesia this Fall looking at how different fisheries management strategies influence genetic connectivity of fishes. We are also excited to get really cranking on a local hydroacoustic project with menhaden, a pelagic fish that migrates to our Rhode Island coastal waters and bays, as well as the kelp aquaculture project! And last but not least, we can't wait for two new members to show up in Rhode Island at the beginning of next year, Kelvin Gorospe (postdoc) and Celeste Venolia (MS student). Kelvin will be coming from Hawaii and he specializes in coral reef fish and fisheries, while Celeste will be working on the kelp project and recently graduated from Smith College in Northampton, MA.