The Fall 2019 semester is in full swing here at URI and the Humphries Lab is busy squeezing in all our favorite wholesome New England Fall activities between manuscripts, scuba dives, data analysis and class schedules. Read on for an update of what everyone is up to.
First and foremost, the Humphries Lab graduated our very first PhD this summer!! Evans has set the bar high with the hardworking, calm, cool, and kind manner in which he worked through his dissertation these past years. We are so excited for his accomplishment and his next adventure as a faculty member at the University of Cape Coast, and although it is bittersweet we're so happy to have him back with his family in Ghana. Glad you could school us in bowling one more time before departing, Evans!

In late September, the lab wrapped up annual fish habitat monitoring in partnership with some friends from the RI Department of Environmental Management. As per usual, the water was chilly, the visibility was poor, the morale was high and we still managed to have fun.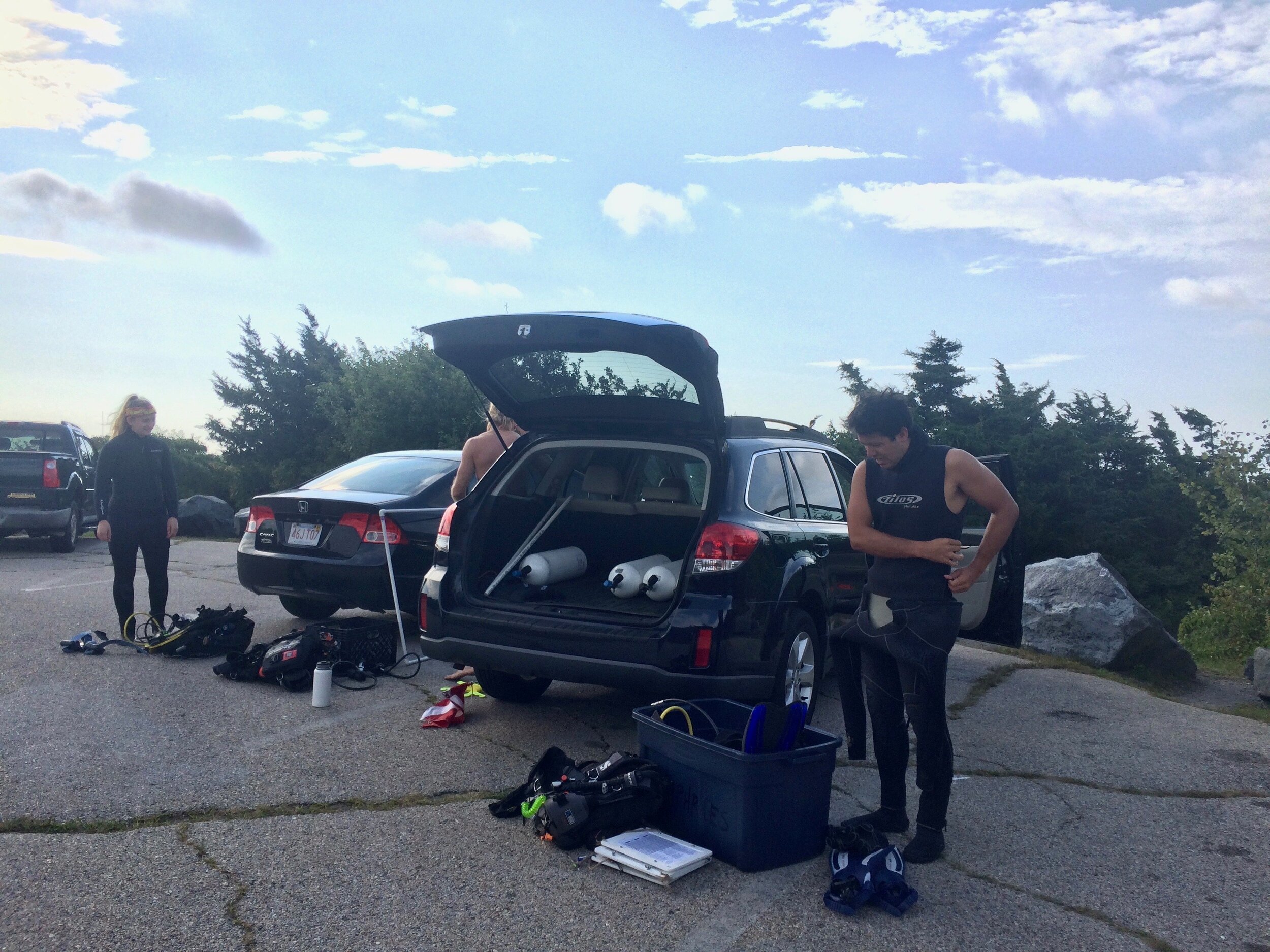 Our group has published a number of papers since our last blog update, covering research topics from snapper & grouper life histories, fishing gear selectivity, periodically harvested fishing closures, and social vulnerability in oyster fisheries. See all of the publications from the lab group on our website's publication page.
Austin, Kelvin, Paul and Lauren spent part of the summer focused on creating engaging lesson plans covering fisheries management topics and have submitted lesson plan materials on seafood traceability and ecolabeling to SESYNC and CourseSource.
Lots of us are still currently in writing mode. Celeste is putting the finishing touches on her MS thesis on a dynamic energy budget model for local kelp production. Elaine is applying for research fellowships and putting together a proposal on patterns and drivers of cryptic diversity on hyperdiverse coral reefs.

On the data analysis side of things, Annie is working on balancing a model of the Narragansett Bay social-ecological system and prepping to attend the Ecopath 35 conference in Florida later this semester. Elle recently traveled to Belgium to participate in this year's Open Sea Lab Hackathon where her team won 3rd place for their app that uses Copernicus data to teach kids how personal choices affect polar conditions!
Kelvin has had his hands full working through the fish landings data in the large coral reef fisheries monitoring database resulting from our work in Lombok, Wakatobi, and Raja Ampat, Indonesia. Paul has been working from this database as well with two new undergraduate researchers in the lab, Ned and Cullen, to analyze fish length trends across different fishing gear types and management strategies.
Our newest MS student Nicky returned from a successful first field season on the island of Bontosua, Indonesia to a full class schedule. While in the field with Austin, Nicky was piloting and training field assistants in collecting data for her work studying fisheries value-chains on Bontosua.
Austin has submitted his tenure dossier (WOO!) and will be back on the Kenyan coast this November, checking in with collaborators and going over some preliminary research results on local fisheries potential for supplying dietary micronutrients to local communities.
This is just a flavor of what we're up to this academic semester! Follow the lab on Twitter at our handle @URI_fisheries to get regular updates, and Happy Fall 2019!